Yellowstone Basin Inn Specials
Please see our
Facebook page
for periodic special offers and events.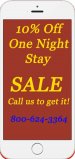 One Night Stays 10% Off Orphan Room Nights!
This is an exceptional sale ... an exception to our usual 2-night minimum discount policy!
What is an orphan night? An orphan night is a single room night between two existing reservations.
How do you know if your room night is an orphan? Go to our
availability calendar
, put in the day
before
arrival.
When you look at the calendar, the dates on either side of your room night should not be available.
How to get this discount:
We must make the reservation for you to receive this sale price. (If you book this yourself, this discount will not apply.)
So, CALL us with the following information:
The date of your one room night, the room name you want, your phone number and the best time to call you (include your timezone).
Valid for a limited time only. These room nights are going fast, so book as soon as possible.
Year Round Discounts
We offer a "Length of Stay" discount of 12.5% off the room rate if you stay five nights or more. Discounts do not apply for extra people or for a roll-away.
Book on our website and enter Promo Code – LENGTH.
Check out
our Yellowstone Accommodations
.